WE ARE THE EXPERTS
Capelli Salon and Beauty Parlour Ltd is a leading provider of professional and business services in natural hair and beauty salon, bridal hair styles, natural hair growth treatments, natural skin care, make-up, beauty pageant care, beauty spa, facials, nail art and design with treatment, eye, hand and feet treatments, waxing, weight loss, colouring, essential conditioning treatment, keratin, ladies hair care, men's hair care, massages, manicures, pedicures and scalp care services. We can turn you into an even more elegant version of yourself. Come to our friendly environment located in Ikeja, Lagos, Nigeria where our qualified beauty therapists provide the highest standards, across our wide range of treatments. Come relax and be treated well. We care for all your beauty needs.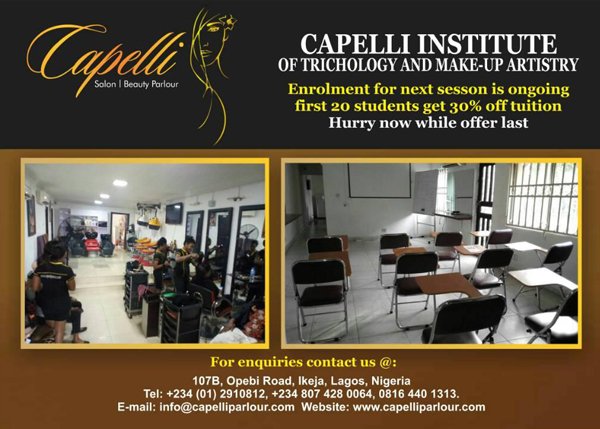 CONNECT WITH US ON FACEBOOK
 Get more beauty news and daily tips
HOURS OF OPERATION
We are open 7 days a week. Visit us during business hours or contact us by phone.
Sun: 1:00 pm to 8:00 am
Mon: 9:00 am to 7:00 pm
Tues: 9:00 am to 7:00 pm
Wed: 9:00 am to 7:00 pm
Thurs: 9:00 am to 7:00 pm
Fri: 9:00 am to 7:00 pm
Sat: 9:00 am to 7:00 pm